Digital Picture Frame as Advertising Panel
Digital Picture Frame as Advertising Panel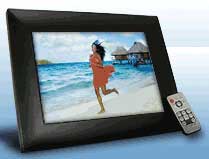 There was a small eatery shop opposite my office selling Peranankan food (that is, fusion food combines Malay, Chinese and other influences into a unique blend) Initially, the barely decorated shop only had 2 to 3 tables occupied during lunch time. There was no signboard. The only attraction was a single row of 8R photographs showing sambal chicken, assam fish, etc, stuck on the glass panel using transparent tapes. Needless to say, people who were opposite the road, on the bus or rushing pass to get to the bus-stop will not know about the mouth-watering dishes.
Martin said he only rented the premises for a year. As the future was uncertain, he preferred to keep his marketing expenses low by not having any signboard, standee, banner or flyer. After all, photographs would eventually fade and his regulars would soon not read his DIY lamented menu. He reckoned a simple business card with his name, address and mobile phone number was quite enough.
When I next see him at his new shop, I would recommend him to use digital picture frame. Digital picture frame basically employs an LCD panel, an SD memory card, and a remote control to create a digital photo frame. This means Martin can store all his food images there . With a click of his remote control, he can make it into a slide show and rotate as many dishes as he wants.
As digital picture frame comes in several sizes, I would recommend one to be placed by the glass panel facing the road, one at the cash counter and another few on the wall. Those on the walls can be used to trace the immaculate process he and his crew put in to cook up a storm. As a customer, I would like to know where he does his marketing, how he pounds his chilli, how he mixes his sambal balachan and of course, how he cooks (if he is willing to make it an open secret). The digit picture frame fronting the shop can repeat food images one after another. While the one sitting on the counter can feature "Menu for Next Week" or other promotional dishes and messages. There are just so many ways of maximizing the digital photo frame into advertising panels.
Keeping abreast of the latest gidgets would help marketers in promoting their goods and services effectively and creatively without incurring high cost. Years ago, I had to use a big bulky Polaroid camera to take reference shots. Now I only whip out my mobile phone. With gadgets and widgets, it's so much more convenient to DIY certain marketing functions. So there is no excuse why you can't do some marketing yourself. I'm sure you get the picture.
Check out these recent popular posts:
Internet Marketing is All About People
Why is Logo Design That Important
How Much Should You Pay for a Logo Design
Is Internet Marketing An Effective Marketing Tool?
4 Great Tips to Hiring the Best Marketing/Advertising Agency
7 Famous Slogans of 20th Century
[tags]photo, digital photo frame, digital picture, digital camera, product innovation, marketing ideas[/tags]