Famous Headline 1: They laughed when I sat down at the piano, but when I started to play!"
Famous Headline 1: They laughed when I sat down at the piano, but when I started to play!"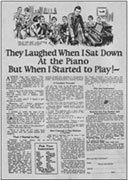 A headline is an ad within an ad. More than 80% of people would read the headline to decide if they should bother with the rest of the text and details.
This famous headline is voted by many copywriters as the best of the best. Adage, a marketing history reference resource said this headline is "arguably, the 20th century's most successful" results-oriented mail-order copy.
And there's an interesting story behind:
When John Caples started in first day of work at Ruthrauff & Ryan in 1925, his boss, Ev Grady, told Caples to start going through 2 large piles of ads. The first pile contained hundreds of winning display ads. The much larger second pile was a 7-inch binder filled with "losing" display ads. Grady reportedly told Caples to study both the successes, and the failures, so he can distinguish the good ads and the lousy ads. That way, he could learn how to write sales copy that sells.
Apparently, the engineer turned copywriter took every word to heart and studied very, very well. , 2 months later, Caples wrote what became one of the most famous headlines in history:
"They laughed when I sat down at the piano.
But when I started to play…"
What's so great about this famous headline?
Emotion Hook:
Without reading the persuasive and convincing sales copy that follows, your sympathy and empathy are already with this budding pianist. Remember the ugly duckling story you read as a child? You like the "live happily after" ending when the ugly duckling blooms into a graceful swan. You believe there is a silver lining to a dark cloud. There is a part of you that yearn to see the underdog wins a fight whether it's in a book, movie or real life. So, this headline has hooked you emotionally. And you'd want to know what happened when he started to play and what happened after he played. In other words, you will start reading the lengthy sales copy
Technical Hook:
The creative usage of negative and positive energies, before and after effects. When he just sat down, everybody dismissed him as a nobody by booing and laughing at him. You can see a hall full of rowdy crowds with squinting eyes and laughing mouth. You can hear the cackles and giggles, screaming and shrieking. You can sense the nervousness of the pianist wanting to prove his salt. You can see the bleak picture, you can feel the "before" effect.
The taunting silenced when he started to strum. The silence is golden. The silence is his complete triumph. Now you can see a hall of quiet people admiring his music with gasping mouths and attentive ears. You can hear the silence where the music reigns. You can sense that the audience is captivated. You know the underdog has got his bones, you are happy with the "after" results.
To know more about the goodness of this entire ad, please refer to Great Ad 12 which details how Caples pioneered a new hybrid of copy-writing that eventually got him a permanent seat at the Advertising Hall of Fame in 1973, while Adage placed him at #21 of Top 100 People of the Century.
Read Related post:
How To Write Headlines That Sell
Great Ad 12: They Laughed When I Sat Down
[tags]advertising headlines, John Caples[/tags]