Business Credit Card Made Easy
Business Credit Card Made Easy
I always find it a chore to keep receipts, fill out claim forms, submit to the Finance Department; then wait for reimbursement for the expenses I have incurred for business entertainment. I suggested to our Finance Department to get me a business credit card. That would save both parties the hassle of shoving paper work around and save some trees in the process, and who knows, maybe even the polar bears.
The obvious solution is to contact our bank. I was absolutely surprised that Oversea-Chinese Banking Corporation (OCBC) does not offer business credit card. It was a shocker. Why would a top local bank not offer such a modern convenience is beyond my understanding. Then again, I seldom see the local or international banks spending big bucks on business credit card advertising.
My Finance colleague scoured around calling big locals like United Overseas Bank and Development Bank Singapore plus international banks like Citibank, HongKong Shanghai Bank, etc, for rates and terms. After 2 weeks, she short-listed two for us to pick. The entire exercise took 3 long weeks.
It was around this time that I chanced upon the weekend bazaar at Orchard Cineleisure Mall. Other than the usual costume accessory and fashion booths, I saw this booth with a simple table and a big banner that say "Compare the different credit cards with just one click." I did not stop to investigate as my client was with me. However, I made a mental note to check it out online
I finally did so on last night after everybody gone to bed. I was astonished to find more than 4 million search results when I "googled" for "compare credit card offers". My colleague should not have bothered to call the local banks. So many answers with 4 words and 1 click.
Of course, low interest and 0% transfer fees are great attractions, but I chose to check out the business credit card offerings by CreditorWeb. Again, it is their short 25-word copy that made me single them out. I simply cannot stop talking about the importance of headlines and copy when it comes to marketing and advertising. "Browse and compare credit card offers from dozens of issuer to make sure you get the best deal on your next credit card". So many correct keywords here: I definitely want to "compare". I prefer more choices and "dozens" seem like a goodly number to start with. I like a good card so "make sure" has a nice sounding ring. I definitely enjoy spending less for more and "best deal" caught my eye.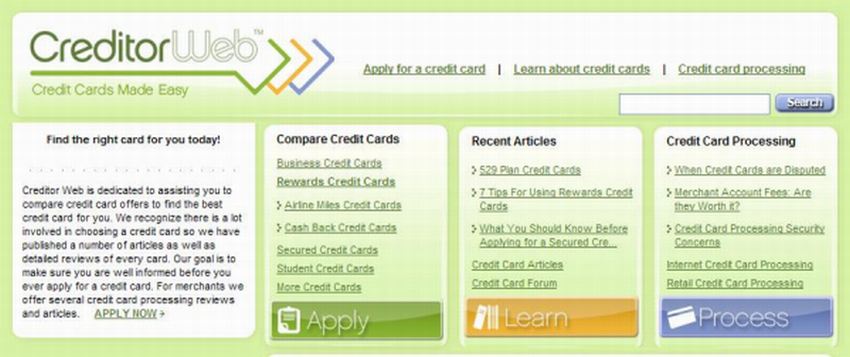 CreditorWeb's business slogan is "Credit Cards Made Easy". Really happy that the website lives up to the statement. I was amazed at how quickly I understood the 4 basic offerings of CreditorWeb.
1. There are at least 16 card issuers.
2. There are many types of credit cards available – business, rewards, airline mileage, cash back and student.
3. There is an archive to learn all about credit cards and understand bank terminology such as "APR" and "New Balance".
4. There are also resources for credit card processor companies. This will be important for businesses who intend to collect payment via credit card.
We can choose a personal credit card based on offerings like fee waiver, freebies or cash back. However, when we want a business credit card, we have to take into account the needs of our business. We should know the business standing of the bank, the acceptance of the card by the merchants (you know, some merchants do not accept Amex), transaction charges, the terms, etc. We need to understand and read the fine print to choose one that suits our business purpose and budget.
I guess this is why my colleague took 3 weeks to get me a business credit card. It is not easy, but it could have been easier if we had known about CreditorWeb earlier. She could have had a wide range of cards to choose from at one single location, plus a "best credit card" selector tool to assist her quicken the selection process. Then again, it is never too late. We don't leave home with one card, we go with several these days.
Go check out companies like CreditorWeb. They have reviewed the do's and don'ts of dozens of credit cards and you certainly don't need 3 weeks to help you make an informed decision. I can almost hear my colleague say "Now then you tell me."
Check out related post on internet marketing:
Is Internet Marketing An Effective Marketing Tool?
How To Price Right If You Have No Idea What To Price At?
Make or Break with Online Credit Card Payments
Online Shopping + Online Coupon = Great Experience
[tags]business credit cards, corporate cards, credit card selection, compare credit card offers, best credit cards[/tags]