Help Feed a Hungry Child by Downloading a Free Report!
Help Feed a Hungry Child by Downloading a Free Report!
I just attended the 2-day National Achiever Congress held in Singapore on 24 – 25 May 2007. James Skinner said there is just too much money going round the globe today, so much so that investors and venture capitalists simply don't know where to put their money. Yet, ironically, we still see poverty, hunger and suffering around us. The victims of Tsunami 2004 are still living in tents and rags. Thousands of children in Africa and other developing countries still spot a bloated tummy due to hunger.
When was the last time you help to feed a hungry child with a plate of food? Have not? Can't remember? Here is a wonderful opportunity for you to do so just by downloading a Success Report written by internet guru Stephen Pierce.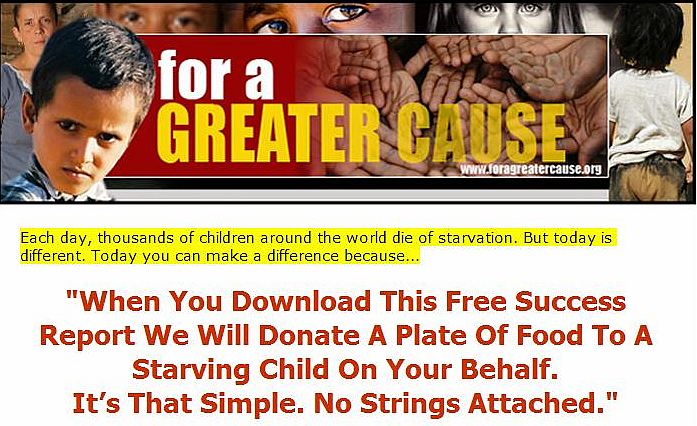 Stephen Pierce is one of the speakers at the World Internet Summit in Singapore from 26 – 29 May 2007. He has accepted the challenge to raise USD100,000 within 72 hours to feed 1 million children through the Feed the Children charity organisation. All you need to do is to login here , download "The Power of Third Influcence" which promises to help accelerate positive changes in our life and you'll get to make a child smile with a full belly somewhere. That plate of food will be donated in YOUR name.
I was at the Summit and witnessed the launch of "For A Greater Cause". I saw with my eyes what's happening "LIVE". It is not a scam like some people said on the web. I shall be attending the Summit tomorrow is very eager to know the amount raised after 12 hour.
While we are all striving to make a better living to get that bigger house or extra car, we are mostly comfortable. Let's pause a moment for the hungry children out there and do our bit to make the world a better place. All for a greater cause, all with a simple click.
Read related post on National Achiever Congress & World Internet Summit
Internet Marketing is All About People
Selling 10,091 Books In One Day is Possible!
Plus other popular posts
Why is Logo Design That Important
How Much Should You Pay for a Logo Design
Is Internet Marketing An Effective Marketing Tool?
4 Great Tips to Hiring the Best Marketing/Advertising Agency
7 Famous Slogans of 20th Century
Or Get a Free Report on Successful Entrepreneurs
Free Report on Successful Entrepreneurs
[tags]Technorati Tags: World Internet Summit 2007, For a Greater Cause, Stephen Pierce[/tags]