Selling 10,091 Books In One Day is Possible!
Selling 10,091 Books In One Day is Possible!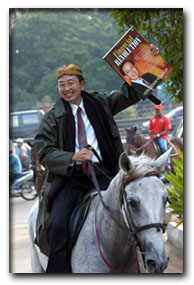 A Report on National Achiever Congress, 24 – 25 May 2007: Tung Desem Waringin
Before you said "so what", please note that the only author that ever surpassed this figure is the billionaire writer who wrote Harry Potter.
You might not know who Tung Desem Waringin is, but you will surely be impressed that he is the number 1 success coach, public speaker and writer that broke the Guinea Book of World Records in Indonesia.
His success is a combination of personal belief and massive action. On stage at the National Achiever Congress held in Singapore from 24-25 May 2007, Tung was an engaging and animated speaker, gesturing and pounding the podium excitably, urging everybody to have "Clear Goals", "Strong Reasons" and "Learn from the best to do the Best". Tung revealed that his editor said he could only have National Bestseller stamp on the book cover if sale exceeds 3000 copies. So there can be no such stamp on the first run. Tung did not like what he heard. He made a personal challenge to sell 10,000 copies by the launch day. The other challenge was he only had one week to realize his goal.
He shared his marketing process and it's not difficult to spot traces of Jay Abraham and Anthony Robbins in it. Tung walked his talk.
For publicity, he donned a trench coat, wore a traditional Indonesian head gear, got a big white horse and rode down the financial district with his new book. That was a newsworthy stunt that journalists and photographers were only too delighted to follow-up on. He made it really convenient by providing a truck for the journalists/photographers to take good snap shots along the way. He completed the run with a sumptious lunch at a posh restaurant. This entire experience was, most assuredly, rewarding and endearing to the media. It always pays to be really nice to the media, for obvious reasons.
Tung wrote to companies he consulted about his new book, "Financial Revolution". Though he knew his clients would support him, he nevertheless made the deal simply irresistible by offering a training session with each order. Suffice to say, this irresistible offer got the orders flooding in.
He next placed a single advertisement in Kompass, the leading daily in Indonesia. It was a simple, text heavy, black and white advertisement. At the top right hand corner, he placed a big word "Announcement". We were conditioned at home or in school to pay attention when parents and teachers or anyone in authority, had something to say. He said, the word "Announcement" would force people to take a closer look. Based on my own experience, I would say that he is right on target. Stop-you-in-your-tracks keywords, irresistible offers and a good price can make a product jump off the shelf. Beautiful advertisements with little substance is simply eye candy that will not feed the cash register.
Last but not least, Tung got THE Jay Abraham, the world highest paid business super-consultant to endorse his product, "Tung is an amazing man. He can teach you how to create dramatic improvement in your life, business and future." This simple 2-line sentence was enough to convince Jay Abraham's protege, clients and fans to regard the man and his book in high esteem. Naturally, this line is featured prominently on Tung's website.
Off-line or online, Tung had covered all grounds carefully and creatively. He gave what people – media, clients, readers – wanted. He offered a great deal and the market responded with a resounding sale of 10,091 books by the first day of launch.
Learn from Tung Desem Waringin who said: When people want to buy, they will ask:
1. What is your offer?
2. What is your price?
3. What are the benefits you are offering?
4. Why should I believe in you?
5. Why must I buy now?
You might like to use these 5 questions as a guide when you next prepare your marketing campaign. When you have your answers, you can then include them in the agency brief for your marketing and advertising agency. Tung's questions and your answers will provide clarity for your company and your agency to work out an irresistible campaign to woo your target audience.
Read related post on National Achiever Congress & World Internet Summit
Internet Marketing is All About People
Help Feed a Hungry Child by Downloading a Free Report!
and other popular post
Why is Logo Design That Important
How Much Should You Pay for a Logo Design
Is Internet Marketing An Effective Marketing Tool?Â
4 Great Tips to Hiring the Best Marketing/Advertising Agency
7 Famous Slogans of 20th Century
Or Get a Free Report on Successful Entrepreneurs
Free Report on Successful Entrepreneurs
[tags]: National Achiever Congress 2007, Tung Desem Waringin[/tags]