Great Ad 6: Forest-Woods-Tree-Death
Great Ad 6: Forest-Woods-Tree-Death
This is done by a Chinese ad agency for the China market. You may not understand the beauty of it if you cannot read or understand Chinese. But once you do, you will appreciate the simplicity, clarity and impact to the image.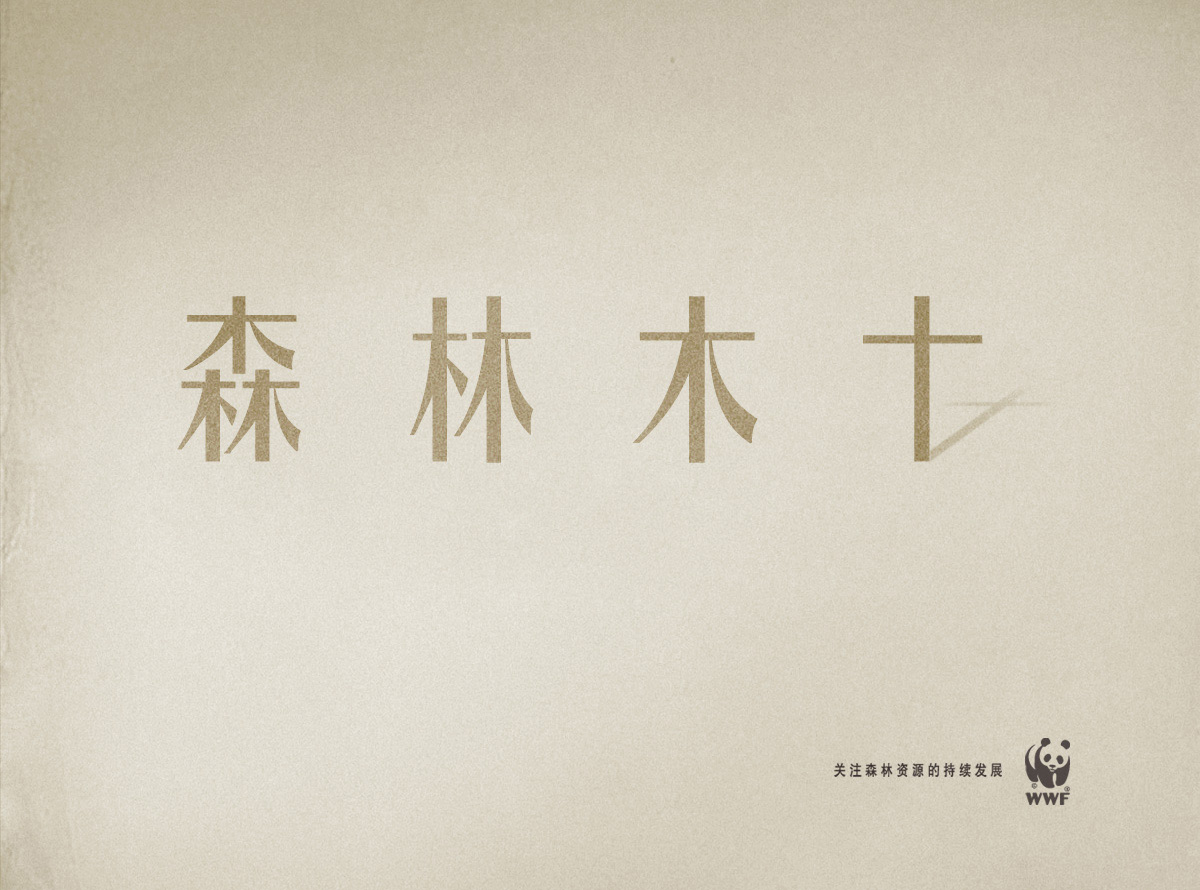 Forest / Woods / Tree / Death (or Sheng/Lin/Mu/Shi)
Ad Agency: Shunya, Beijing, China ~ Creative Director: DOZE ~
Creative: Miao Hao
Why is it good?
Attract Attention: There are 3 words and 1 symbol. All the 3 words have the "wood" component (as featured in word #3). Reading from left to right literally, we get Forest –> Woods –> Tree –> Death. As you can see, the first word has THREE "wood" characters. The 2nd word has only TWO "wood" characters, and the third word is "wood" itself, the the last and final character has even the last visages of "wood" stripped away! That is no longer a Chinese word, just a symbol, albeit a familiar one that speaks of death.
Easy to Understand: When we cut down trees relentlessly, thinking only of immediate gratification without sparing a thought to how a disappearing forest or a shrinking Amazon will negatively impact the ecology and environment for our future generations; we are bringing an early demise to planet Earth.
Strong message: This is a deforestation awareness campaign by WWF – a global environmental conservation organization. A strong message that "Our one and only planet has so many fantastic places and species that we're almost spoilt for choice. But that choice is getting smaller, with unique species and environments being lost forever." So start re-thinking your preferences – to use disposable wooden chopstick even when you are at home or office? You don't want to be responsible for killing off a "sheng" (forest) or the "lin" (woods) and be the murderer-accomplice that planted the crucifix instead.
Check out related posts within the Great Ad series :
Great Ad 1: Without Heinz
Great Ad 2: Sony Micro Vault
Great Ad 3: Happy Father's Day
Great Ad 4: Amnesty International
Great Ad 5: Ready to Quit
Great Ad 6: Forest-Woods-Tree-Death
Great Ad 7: Buenos Aires Zoo
Great Ad 8: Drink Milk
Great Ad 9: Brain, Head, Thinker
Great Ad 10: The Greatest Wonder of the Sea is that It's Still Alive.
[tags]forest-to-death ad, deforestation awareness ad, great ads, ads with few words, ads with strong imagery, ads with picture only[/tags]